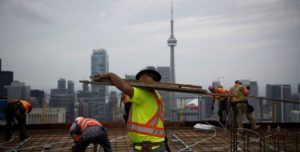 A condo project by developers may never come to fruition, so beware.  Read the fine print and have it reviewed by a lawyer.  Know what are the consequences if the project does not get completed.  What is the scheduled completion date and what will you do for housing until the date of completion.
Pre construction contracts will have a fail safe clause.  The developer will not put the first shovel in the ground before  a minimum of 70% of the units are sold.  Are you prepared to wait 2-4 years or more before moving  into the condo unit?  What happens if the project is cancelled for lack of sales?
A new trend in the Toronto condo market  seems  to be to cancel the condominium project and to build rentals instead.     Deposits are taken from prospective buyers  at the time of  the pre construction sales.  There is no law stopping the developer from cancelling the project.  However, there is interest  on the deposit money that  must be paid out if the contract is cancelled.   The interest is so minimal it may not be  worth any value and the interest is a taxable benefit.
Recently a Toronto project was cancelled (http://www.thestar.com/business/real_estate/2015/01/27/builder-quietly-cancels-condo-complex.html) .  A  buyer  put down $40,000, which was held for three years before the project got cancelled.  The buyer was paid out the interest amount of $1,085, which is  taxable interest.  As well as this meager return on the dollar, the buyer has lost the increased value of the property.  The buyer must now  purchase  a condominium at the  increased value in today's market versus the price paid three years ago. T here is no compensations by the developer for this.
While the developer will still get investors to build the rental condos, they will be able to use the rental income to reduce the mortgage required to carry  the new building.  From a business perspective this is a wise decision.  When the time is right the units can be converted back to condo units for sale.   This is especially profitable in the Toronto  core city areas where there is no land available for future development.
In 2014 the Toronto condo rental market increased by 15% regardless of the size of the rental units.  Investors who have purchased individual units and have rented them have found this very profitable.   Now  developers are beginning to embrace the rental option in projects that were originally designated for sales.  So beware!  As a potential buyer of a pre construction condominium project it may be wiser to buy a resale unit.