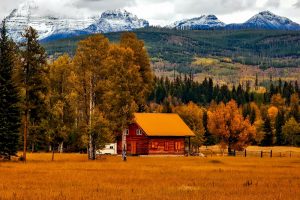 Making the right decision when picking the ideal  place to live and work in the United States is key to a great quality of life.
The United States was reported to have 19,505 cities, towns, and villages (1 reported by Statista) . Livability, a website that specializes in ranking, conducted their 3rd annual "Top 100 Best Places to Live" survey based on more than 2,000 cities with populations between 20,000 and 350,000 people (2). These cities are then ranked based on data points from more than 40 factors. Here are the top 5 ranked cities on the list.
5. Boulder, Colorado
Boulder, Colorado is located at the base of the Rocky Mountains and is home to a population of 102,002 people. With over 45,000 acres of unspoiled land there is plenty of room for outdoor activities which is why Boulder was ranked as the "Number 1 Sports Town in America" by Outside Magazine (3). The weather is also excellent in Boulder, with over 300 days of sunshine a year (3).
Boulder supports environment protection and local farm food. This support and use of local farm food allowed Boulder to be named Bon Appetit's "Foodiest Town" of 2010. The city also took environmental protection to a new level by imposing a height limit on newly constructed buildings to maintain the city's current views and atmosphere.
The city is also home to many small and large businesses, with some giants including (3):
Google
Microsoft
National Center for Atmospheric Research (NCAR)
The abundance of companies, most of which in the technology and research industries, leave many jobs for the city's residents to fill. The recent job growth in Boulder has been 2.94%. The expected future job growth in the area is expected to grow to 41.80% (4).
Not only is Boulder home to the University of Colorado, it is also home to the highest percentage of people with advanced degrees in America (3).
There are many different things to do in Boulder, Colorado such as:
Outdoor sports
Performing arts
Museums
Downtown boulder
The above factors are just a few of the reasons that Boulder was ranked 5th on the "Top 100 Best Places to Live" list(2).
4. Santa Barbara, California
Santa Barbara, California has a population of 89,669 people (5). Santa Barbara is also home to a beautiful coastline, spectacular views of mountains, and a year round warm climate (6). Beyond the beautiful natural scenery and weather, Santa Barbara is home to a rich cultural heritage with many historical buildings and artifacts to explore (6). The city has a high walk-ability rating, many higher learning institutions, and a large rise in entrepreneurs.
The top employers in Santa Barbara include (7):
University of California, Santa Barbara
County of Santa Barbara
Cottage Health System
Santa Barbara City College
Raytheon Electronic Systems
The recent job growth in Santa Barbara has been 0.19% and is expected to climb to 36.60% in the future (8).
There are many things to do in Santa Barbara including (6):
Hiking & Biking
The San
ta Barbara International Film Festival
The Old Spanish Days Fiesta
The Avocado Festival
Rods & Roses
The above factors are just a few of the reasons that Santa Barbara was ranked 4th on the "Top 100 Best Places" to Live list (2).
3. Madison, Wisconsin
Madison, Wisconsin, nicknamed "The City of Four Lakes" has a population of 239,848 people (9). Beyond being the state capital, Madison is home to the University of Wisconsin. This foodie city also has a mayor that is extremely keen on making the city as livable as possible.
The recent job growth in Madison, Wisconsin has been 1.20% and is expected to reach 38.70% in the future (10). The top employers in Madison, Wisconsin are (11):
University of Wisconsin-Madison
American Family Insurance
UW Health
Alliant Energy Corporation
TDS Telecom
Spectrum brands
Madison, Wisconsin is home to many special events and attractions for the whole family. Some of these include (12):
Rhythm & Booms
Great Taste of the Midwest
Orpheum Theatre
Overture Centre
UW Theatre
The above factors are just a few of the reasons that Madison, Wisconsin was ranked 3rd on the "Top 100 Best Places" to Live list (2).
2. Bellevue, Washington
Bellevue, Washington has a current population of 132,268 people (13). Bellevue is nicknamed "City in a Park" due to its excess outdoor space and overwhelming amount of available outdoor activities. Beyond these activities the city is also home to many festivals and museums. The city's main goal is to remain extremely accessible for all its residents and tourists. Bellevue is only separated from Seattle by Lake Washington which makes getting in, and out of, the city easily achievable (14).
Another main feature of Bellevue, Washington is its nationally recognized public schools, for all ages. From Kindergarten to High School, Bellevue's schools rank among the best. In 2013, Bellevue's High Schools made Newsweek's list of "America's Best High Schools" as well as the Washington Post's "America's Most Challenging High Schools" list and even U.S.News and World Report's "Best High Schools" list.
The recent job growth in Bellevue has been 2.64%. The job growth for the city is supposed to rise to a staggering 41.40% in the future. (15).
A combination of the above factors have a large impact on the reason why Bellevue was ranked 2nd on this list (2).
1. Rochester, Minnesota
Rochester, Minnesota has a population of 109,252 people. The city is home to great hiking trails, outdoor areas, vineyards, and a blossoming art, and music scene (16). One of the main reasons for Rochester's climb to the top of Livability's "Top 100 Best Places to Live" list is its affordable housing.
Rochester's economy is comprised of three main areas:
One of the main features of Rochester, Minnesota is the large Mayo Clinic Medical Campus. This campus is also expanding over the next 20 years. This will lead to 40,000 new jobs and a predicted 100,000 new residents, which is double the current population. The Mayo Clinic currently employs 30,000 people and attracts nearly 2M people a year. The expansion will also bring expansions to the satellite campus which will bring in more young people and students.
There are many other employers in Rochester. The main industries in Rochester include (17):
Health-care
Education
Manufacturing
Food production
Government services
Financial sectors
Although the recent job growth of Rochester has been down to -0.03%, the job growth in the future is expected to rise to 36.10% (18).
A combination of the above factors is just a few of the reasons that Rochester was ranked number 1 on the "Top 100 Best Places to Live" list (2).
In conclusion, there are many reasons why these cities deserve to be the top 5 of the "Top 100 Best Places to Live" list. From great employers and employment opportunities, to a thriving life with plenty to do outside of work, these cities truly are the best places to live in the United States.
If you are relocating to or from Canada and searching for some advice on which region to move to, TransferEASE can help. At TransferEASE our knowledgeable relocation experts can help guide your relocation from start to finish, with care and attention.