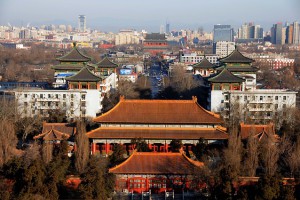 The city of Beijing, China is a mix of new age architecture, alleyways, and historic temples. As China's biggest city, Beijing is home to over an estimated 21.7 million people.  Most of Beijing's residents speak Mandarin. Beijing is a generally safe city with low crime rates, mostly due to the severe penalties given to those who break the law.
Beijing is currently seeking expats. Some of the industries that are growing, expanding, and booming include:
Banking and Financial Services (CEOs in Consumer Sector)
Accounting and Finance (Finance Directors)
Legal (Private Partners)
Teaching (ESL teaching)
Advertising and Communications (Creative Directors)
IT (Web Developers)
Pros
Location
Beijing is home to a bustling and booming city life style. There are however, many rural areas to explore or hike,
cycle, or walk through. Due to the fact that the main city core is densely populated, many people chose to take public transit, a taxi or even walk to work.
Salary
The average salaries for different professions that are seeking expats are:
Banking and Financial Services (CEOs in Consumer Sector)

$58,296.00 – $233,184.00 CAD

Accounting and Finance (Finance Directors)

$58,296.00 – $291,481.00 CAD

Legal (Private Partners)

$116,592.00 – $252,616.00 CAD

Teaching (ESL teaching)

$23,318.00 – $34,977.00 CAD

Advertising and Communications (Creative Directors)

$38,864.00 – $136,024.00 CAD

IT (web developers)

$116,592.00 – $174,888.00 CAD
Residences
Beijing is home to many different types of residences. Much of the residences in Beijing are high-rises. The closer to
the main part of the city the more expensive the residence.  A pro of living closer to work is that the traffic in Beijing is poor as a result of the 5 million cars present in the city.
There are international apartment complexes that are very luxurious. There are also suburb areas where there are plenty of free standing homes. Many expats are put in serviced apartments with are luxurious and very expensive. Many are located in a wing of a hotel, and therefore feature the same amenities.
Cost of Living
It is estimated that if you currently resided in Toronto, Ontario, and made 5,300.00 CAD a month that you would need to make 4,432.00 CAD a month in Beijing to maintain your current standard of living.
Accommodations in Beijing can be expensive. A 3 bedroom apartment in the city core costs on average $1558.43-$3116.87 CAD per month. In many places the utilities are paid for in advance such as electricity and gas, and are then refilled when they begin to deplete.
Food in Beijing is substantially cheaper than in Canada. On average a meal at an inexpensive restaurant is 67% cheaper.
Weather
The weather in Beijing is divided seasonally. The winters are long and cold with short days and long nights. Warm springs begin in April/May and summer lasts from May to September. During the summer the temperatures are hot and it is rainy.
International Schools
Beijing is home to many International Schools. These schools are ranked very highly, but they also come with a very high price tag. The annual fees can vary between $15,584-$25,324 CAD per academic year. Some excellent International schools in Beijing are:
Beijing International School
International School of Beijing
Canadian International School of Beijing
Cons
Air Pollution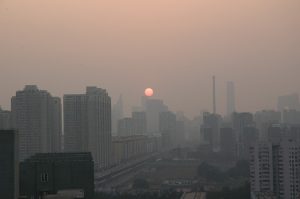 The air quality in Beijing is horrible. The city has been plagued with terrible air quality for decades. The main causes of the pollution include:
Exhaust from over 5 million motorized vehicles, even though many people live close to their work
Burning coal as a means of creating power, which causes smog, acid rain and toxic air pollution
Dust storms caused by the deserts in Mongolia, northern China and the Hexi Corridor
Local construction also contributes to the air pollution via heavy machinery and dirt
There are many concerns for people with pre-existing respiratory problems. Some suggestions include:
Wear masks on days with particularly high pollution
Air purifiers are recommended
Indoor exercise is recommended
Health
Health Care in Beijing is not the same as in Canada. Pharmacies in Beijing cannot honor an overseas prescription.  Health insurance for foreign workers is expensive costing on average$ 252.00 CAD per month.
Traffic

Beijing, like many other booming cities, has a traffic problem. The traffic is a result of many people living and working in the city. There are over 5 million cars in Beijing. This gridlocked traffic in the city is also a large contributor to the excess pollution in an already polluted and densely populated area.
Language
The language barrier in Beijing is sometimes the hardest part for relocating workers to overcome. Many people speak Mandarin and therefore without it you will have a hard time communicating. It is advised that you learn some common phrases, or even a bit of the language in general, prior to your relocation. Here are a few simple phrases that can help make your relocation easier.
      你好
      Phonetic Pronunciation: nǐ hǎo
Where is the restroom?
      洗手间在哪里
      Phonetic Pronunciation: šä šo ǰiān zài nă li
What time is it?
      几点了
     Phonetic Pronunciation: jǐ diǎn le